Shri. G. KESAV YADAV M.A., B.Ed
Chairman

Shri G. Kesav Yadav is a Post Graduate degree in Education. He is the chairman of Sree Venkateswara Educational Trust, with its Trust office at #81 Kamarajar Salai, Kanchipuram, Right from his boyhood he was very much interested in Learning and making others to learn .He is a keen observer and has a mind to follow the principles of eminent educationists and noble qualities of learned men. Since he is fascinated towards spreading education among pupils, he started a nursery school. After some years he upgraded the nursery school to a primary school in the name of Sri Vivekanada nursery and primary school which was run in Pillaiyarpalayam, Kanchipuram town. About 1000 children were given excellent education in this school. He is running this college under Sree Venkateswara Technical Educational Trust, since 2001, since 2001

Our Chairman Shri G. Kesav Yadav is planning to start a medical college very shortly. He is also the M.D of Billiance Industries Ltd..,and proprietor of Billiance Garments.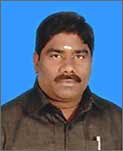 Dr. R. PRABHU
Principal
Our Principal is an eminent, enthusiastic person, working towards educational excellence. He has worked in Adhiparasakthi Engineering College, Melmaruvathur, Tamil Nadu, India, as a Professor, in the Department of Mechanical Engineering. His professional interests include design of jigs, fixtures, CIM, modeling and analysis, forming, and parameter optimization of manufacturing tools. He was Assistant Professor, Senior Lecturer and lecturer in the Mechanical Engineering Departments at Adhiparasakthi Engineering College, Melmaruvathur, India. He also served as Lecturer in the Mechanical Engineering Departments at VRS College of Engineering & Technology, Arasur, Villupuram, India. He also worked as Assistant Engineer of Special Mining Equipments at Vasavi Engineering Corporation, Neyveli  Mines-II.
He has published 5 papers in International Journals and 3 papers in National Journal attended nearly 20 conferences, organized national and international conferences.
He is an able and efficient administrator of engineering colleges. He serves with a motive of enhancing the standard and quality of engineering education with the latest technologies and updated facts and figures of technical education. His prime aim is to provide best technical education to students and enable them to global competition and successful in all their attempts.